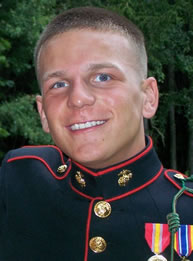 WELCOME TO THE ZACHARY D. SMITH MEMORIAL WEBSITE – remembering a loving son, brother, husband, friend, and Marine. Since Zach's passing in January 2010, he has received many honors and many events have been created celebrating the life of an amazing person. This site is provided as a place to give Zach's family, friends, Marines, and others the ability to follow how he is being remembered all across the nation. Please enjoy the website!!!
OBITUARY:
Lance Cpl. Zachary D. "Zach" Smith, 19, of Hornell, died in combat Sunday
(Jan. 24, 2010), while serving his country with the United States Marine
Corps in Afghanistan.
A native and life resident of Hornell, he was born April 2, 1990, and was
the son of Chris and Kim (McDaniel) Smith.
Zach was a graduate of Hornell High School (Class of 2008) where he was a
member of the football and golf teams. Immediately following graduation, he
followed his lifelong dream and enlisted in the United States Marine Corps.
On Oct. 3, 2008, he graduated from Recruit Training in Parris Island, S.C.
He completed the Marine Corps School of Infantry and was then assigned to
the 2nd Platoon C Company 1st Battalion 6th Marines, based out of Camp
LeJeune, N.C. On Dec. 17, 2009, he was deployed to Afghanistan.
He was a member of Our Lady of the Valley Parish and a communicant of St.
Ann's Church. Zach was an avid golfer and was a member of Twin Hickory Golf
Club and also the Hornell Golf Club. He enjoyed watching sporting events
and especially liked to root for the New York Giants, New York Yankees and
the Syracuse Orange.
Zach had a way of touching the lives of everyone that he met. He had a
wonderful sense of humor; a contagious laugh and the most genuine smile
that God ever gave a human being. He was always ready with a good joke or a
humorous story. He will be sadly missed by his family, friends, the Hornell
community and everyone that had the pleasure of knowing him.
He was married on July 25, 2009 to the former Anne Deebs, who survives.
Also surviving are his parents, Chris and Kim Smith of Hornell; one
brother, Nathaniel "Nate" Smith of Hornell; one sister, Grace Smith of
Hornell; his grandparents, Sid and Alice Smith of Hornell, and Darrell and
Donna McDaniel of Hornell; his mother-in law and father-in-law, Mike and
Andrea Deebs of Hornell; his in-laws, Michael, Patrick, Mary, Brendan,
Grace and Andrew Deebs; and several aunts, uncles, nieces and nephews.
Read more about Zach: Compilation of Media Stories about Zach Smith (pdf)